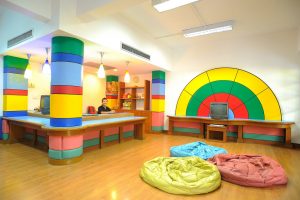 Look around you, what do you see? You may have noticed an increase in the number of pregnancies among your club's membership. Without question the family market is growing.  Some experts say we may be in the midst of another baby boom, bigger than the one that occurred after World War II.
As a health club owner, offering a high-quality childcare program can make a big difference in attracting parents and retaining those parents as members of your club. What parents look for first and foremost at a health club is supervised childcare. What that amounts to is babysitting. The parent's objective is to be able to complete their exercise programs without worrying about their child or feeling guilty about leaving them in someone else's care however briefly. So you must offer and provide responsible care in a positive, safe and playful environment.
In addition, you could offer programs that cater to integrating physical activity into the child's life. With this in mind, successful childcare services can increase the value of your health club in a variety of ways. When parents are happy, they will continue renewing their memberships and will recommend your club to their friends. Increased membership and increased positive word of mouth equal a boom in business. So, prepare yourself for the future, because it's here now!