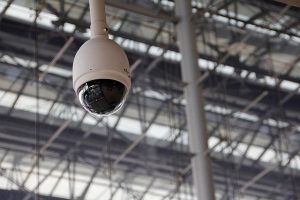 Video surveillance has become the standard rather than the exception in the health club industry, especially digital video surveillance. Yet there are still some club owners who for whatever reason are still resistant even though it seems like a no-brainer decision. Being able to see what goes on inside your club especially in your absence can be a real benefit.
While it isn't legally required for health clubs to have video surveillance systems to qualify for liability insurance, like hotels and grocery stores are, insurance companies are highly in favor of them. Due to improved digital technology, video security systems have become an increasingly cost effective method for reducing claims and managing risk.  Although most of us are a little apprehensive about the idea of being watched or becoming a subject of surveillance, it has become an accepted and important business tool.
Digital video surveillance is an excellent tool to help reduce crime in your parking lot and mysterious disappearance of your inventory. However, it is an even better tool for staff training and capturing incidents that occur at your club. Since most accidents that occur at health clubs are caused by "member malfunction", a video that captures the event is an invaluable tool to help curb your liability. After all, seeing is believing.
There is nothing like the truth when it comes to settling premises liability claims.  Sometimes, the camera will capture a legitimate slip and fall incident.  In those cases, the claims adjuster can quickly assess the degree of negligence that the business owner may have and settle the claim promptly with the injured person.  The camera will tell the truth both good and bad.  The good news is that once the truth is clear, litigation expense is drastically reduced.
Today, video surveillance in the day care area of health clubs is imperative.  A monitor can be placed at the front counter for parents to view their children without disrupting their activities. While this is without question an excellent customer service tool, it also provides great protection against allegations of child abuse.
In health, prevention is the best medicine. Likewise in any business where accidents are more likely to happen, preventive measures are also the best medicine. That medicine is digital video surveillance. When members and employees are aware that the club is being monitored, you will find that customer service standards increase and claims decrease.
Video security systems are also used as a management tool for employee training.  A wide-angle camera covering the front desk area of a club can provide important feedback to the club owner.  Several systems also offer the opportunity to capture audio recording as well.  The front counter surveillance provides two important benefits.  First, the camera can monitor any unwanted guests that may enter the facility or a member who may cause a scene with your employee.  Secondly, the system can monitor the employee(s) and provide excellent feedback as to their performance.
The fact is video surveillance systems make life easier on club owners who can relax knowing there's always a watchful eye on their clubs. And, of course, video surveillance is integral for 24-hour fitness clubs where members can workout anytime they choose.
In this day and age many people are more litigious and hold themselves less accountable for their own actions. This is one reason for having video surveillance in the public areas of a club.
Ask your insurance company about video surveillance for your club or give us a call to discuss options for your club.